Doritos
As part of its commitment to the Black Lives Matter movement, Doritos sponsored a series of murals by black artists in key markets such as Minneapolis and DC. Be The Machine assembled a roster of iconic black artists to bring the #AmplifyBlackVoices campaign to life, moving very fast with local communities and wall owners! Doritos then took to social media to boost the murals and artists visions.
DirecTV
The Super Bowl is where major NFL partner platforms and their advertisers gather each year. To help DirecTV produce a truly VIP experience in Arizona, Be The Machine curated events and activities at a private resort. From custom pool tables to desert-inspired social hours in the shade, DirecTV guests were immersed in a brand journey culminating in the big game!
Jeep
Jeep is a major sponsor of the X-Games in Aspen, with their footprint massive as it ranges from a course takeover to activity centers to village activations. We helped Jeep get event go-ers to immerse into the Jeep lifestyle through a combination of touchpoints. From graffiti license plates, to flipbook photo marketing, a husky puppy playpen, snow projection mapping, custom etched magnets, free Jeep rides, a massive mountain build-out, and lot more you'll have to ask us about. We think, produce, and execute it all!
Nextdoor + H&R Block
Nextdoor and H&R Block partnered up to support communities with their commitment to the Make Every Block Better program. We helped the team vet and select 10 community improvement projects including neighborhood cleanups, community garden constructions, safety mural paintings and more! Be The Machine navigated the pivots of a pandemic to bring these projects to life safely all while utilizing and supporting local small businesses and bringing neighborhoods together.
Dunkin'
Dunkin' knew they wanted to promote a new Baskin Robbin's coffee line in a fun way and loved the idea of doing something with nail polish, but didn't know where to take the idea. We brought the idea to life by collaborating with Lauren B. Beauty to create a custom line of high quality non-toxic polish in custom colors and launched a nationwide campaign placing the polishes in upscale nail salons in 10 different markets. The campaign swept consumers and media by storm driving 894M+ earned media impressions—just search "Dunkin' nail polish" and you'll see!
L.I.F.T. Summit
We partnered with VentureFuel to produce and execute this free B2B summit to help clients, start-ups, and investors connect and learn in these fast times. Over 200 C-Suiters came out to NASDAQ in NYC to learn from our impressive panel of leaders from UnderArmour, SAP, Anheuser-Busch, and more! And most importantly we brought in former Secretary of Defense General Jim Mattis, interviewed by Professor Scott Galloway, who shined light on his new book and essential leadership wisdom.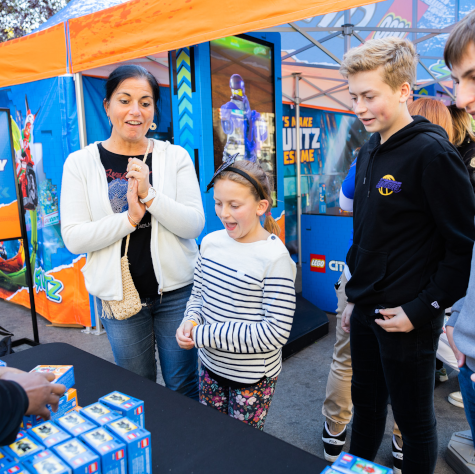 LEGO CITY Stuntz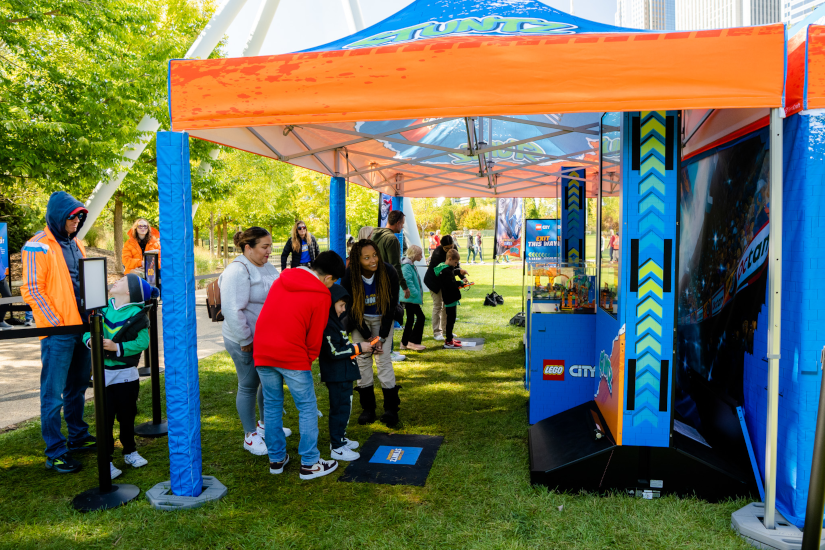 LEGO wanted to promote real-life play with the CITY Stuntz line. By creating a custom interactive game that consumers could access via QR code on a phone or tablet, kids were able to replicate IRL play via DOOH-style screens. Multi-day activations took place in NYC and Chicago, inviting consumers into the world of LEGO CITY Stuntz with a fully branded footprint that included branded tents, wayfinding signage, display cases with the coolest LEGO CITY sets, and of course the interactive game. At the end of the experience consumers were treated to a prize which included a full-size LEGO character.
Hulu
Hulu had the recipe for a great promotion and Be The Machine had to bake it to perfection! For the debut of "This Fool" in Venice, CA, a special cupcake truck was modeled after the show's content, right down to the iconic rooktop cupcake! The crowds were hyped for the delicious goodies, sourced in the true spirit of the show. A big marketing start for a hit show.
Caterpillar
Caterpillar and their agency Gelia went big during ConExpo to unveil its new Cat C13D engine. In order to stand out from the clutter during this massive Vegas tradeshow, Be The Machine helped stage a takeover of the Raiders Allegiant Stadium for an experience the lucky attendees will never forget. From and up-close-and-personal look at the new engine to custom Cat fooball jerseys to kicking field goals like the pros, VIP guests and industry press were wowed in ways that could never happen on the typical tradeshow floor.
Topo Chico
The popularity of Topo Chico is rooted in its strong partnerships with top restaurants. In Miami, Topo Chico turned to Be The Machine to create a custom mural that featured the artwork of the chef from hot spot Pinch Kitchen + Bar. A special burger was created for the program, which can be ordered through the QR code on the mural. Topo Chico goes local and gets delicious!
CBS Sports Network
To engage the crowds at the CBS Sports Network Classic, a top college basketball tournament in Vegas, Be The Machine brought the pre-game fun! A special dunk photo opp for social shares generated massive chares. But it was the sneaker cleaning station that had the long lines as kicks were cleaned by pros to the delight of the fans.
Xfinity
Local, local, local. Be The Machine has created a platform for Xfinity to connect to local markets through special promos staged in partership with local businesses. Chocolate shops, taco trucks, coffee shops … Xfinity sponsors free surprise-and-delights for customers in a way that integrates the brand into lifestyle locations.